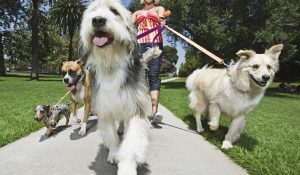 Your work schedule has changed, you do not have to impede your dog's health, it has a very high level of energy and you feel guilty for not offering it the time and attention it needs . Whatever the reason that brings you to us, our dog walking service is a preventive solution to the health of your dog that will make your dog a happy dog, and at the same time, will provide peace of mind.
Our dog walkers are trained and insured. They are chosen both for their skills and for their love of dogs.
Our dog walkers will walk in your neighborhood.
Our dog walkers will come according to your schedule.
Our dog walkers adjust their pace and speed walks according to fitness and the energy needs of your dog whether it's running, fast paced or walking slow.
For the dog who cannot heel, the educational walk is recommended. More than just walking, educational walk addresses the need for cognitive and physical stimulation of the dog and their need for socialization. During the walk, our dog walkers use proven methods that will help the dog's attention. In fact, 45 minutes of educational walks with us equivalent to 1 hour and 30 regular walking.
A free evaluation will be made by our dog walkers to determine the type of walk and the frequency recommended.
Dog walking service includes:
First evaluation free in your home
A 45-minute walk: walking, education and petting
Water and rewards (if permitted)
Bag for waste
Cleaning the dog back from the walk
Send a daily report to the owner after each walk.
Different packages are available for you.
The more dog walks you buy in advance, the more you save.
Contact us for more information on our packages and prices.