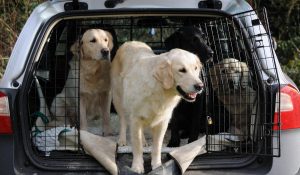 At Pitou Urbain Laval we understand that your lifestyle does not allow you to be always available for your pooch or kitty. It is also possible that you do not have a car or health to do so. Wishing to meet your needs, we have decided to offer the Pet Taxi for dogs and cats.
The Pet Taxi service ensures that your pet gets the care they need while providing you the peace of mind of a reliable, safe and comfortable service.
Pet Taxi is a door-to-door service available throughout the territory of Laval whether it's going to the groomer, veterinarian, veterinary hospital, pet sitters or the airport. We also accept special requests from Lanaudière and the Laurentians.
Our Pet Taxi service for dogs and cats is suitable and safe for transporting your pet. We can do one-way and round-trip, and even wait there with them. Transport is done either in a crate or with a harness attached to pet. The price of Pet Taxi includes up to two animals of the same family going to the same destination.
Vehicles used for Pet Taxi is equipped with air conditioning for the comfort of your pet and a GPS. All our drivers are insured and chosen for their professional knowledge and love of animals.
Reservation for the Pet Taxi should be done in advance, but if we are available we will accept reservations on the same day.
We can also schedule your regular visits to the groomer and the vet. You'll never need to leave work for such visits.
Parking fee will be added if necessary.
Animals being transported shall be non-aggressive.
For more information, please contact us.